/sites/meadowsclass.com/files/images/oregon_trail_extravaganza_2015_meadows.zip
Click on this link to download the photos I took of yesterday's events.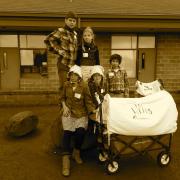 The day's events: 
We started our day with a ride in a REAL wagon pulled by horses! Then, everyone took turns at the apple press, enjoyed some cider, helped to churn butter, sampled it on biscuits, and even dipped and made candles. There was also a game station, to play jacks, marbles, pick up sticks, and Jacob's Ladder. 
Next, Mrs. Swanson taught us a contra dance, and we managed it very well! She was SO impressed with our kindness towards each other and our willingness to try new things. I can honestly say, EVERYONE had fun dancing :) Unfortunately, no pictures...I was too busy dancing! 
We learned to weave and started making small bags and were awed by Mrs. Paul's spinning. Then, students chose to create a quilt square with either paper or fabric.
Once on the trail, the first obstacle was getting the wagons safely down Windlass Hill. Fortunately, everyone worked together, the ropes held, and all arrived safely at Alcove Springs, where they were able to rest from their exertions and do a bit of laundry.
Back on the trail, our pioneers met Brigham Young and some of his followers, before passing by many gravestones marking the final resting places of other less-fortunate travelers. One from each family sadly died, and was buried on the trail. (fictional characters of course!)
Most of the groups successfully panned for gold, but did need to pay the mine owner for using the land. Many stuck riches! 
COntinuing
 onward, reaching the North Platte River, groups discovered that they must ford it. Again, disaster was narrowly averted and everyone made it across safely, though a bit cold and wet.
All travelers left their initials on Independence Rock and then passed through a lush area with good hunting. Folks they met, encouraged them to take another path, but our pioneers continued on. Some traded at the stocked Fort Hall.
They learned about Oregon's wonderful forests and then had a refreshing stop at the Whitman Mission, 
Narcissa
 offered water and trade goods. Finally reaching the Barlow Gate, folks were saddened to realize that they must pay a toll before passing. Everyone finally arrived in Oregon City. Good thing each family had a bit of gold!
To end the day, all eight intermediate classes met in the gym to sing and dance and celebrate together.
A huge thank you to all of you who came together to make this happen for our students. We had over forty volunteers here today, and many more that did preparation work at home. Not only parents helped out, but grandparents, middle school students, community members, and staff. It is really heartwarming to see folks come back and volunteer each time we do this, even though their own kids have grown up. THANK YOU, ONE & ALL!!!!